Introduction
An element has the ability to cause magic damage. The game distinguishes between fire, light, water, shadow and no elements. By default you have no elements. Your character can get hold of elements through fairies.
Using Elements The order of the elements is Fire > Shadow > Water > Light. In each case the previous element inflicts 50% more damage on the element following it. If you do not have an element, you receive 30% more damage from every element. Important: Elements only count for skills that also have an element assigned to them.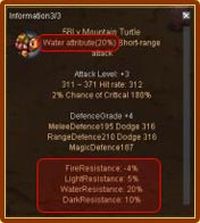 Resistance Resistance reduces the damage of elementary attacks. If your opponent has resistance against the element that you want to damage him with, the damage will be reduced by the value of the resistance.